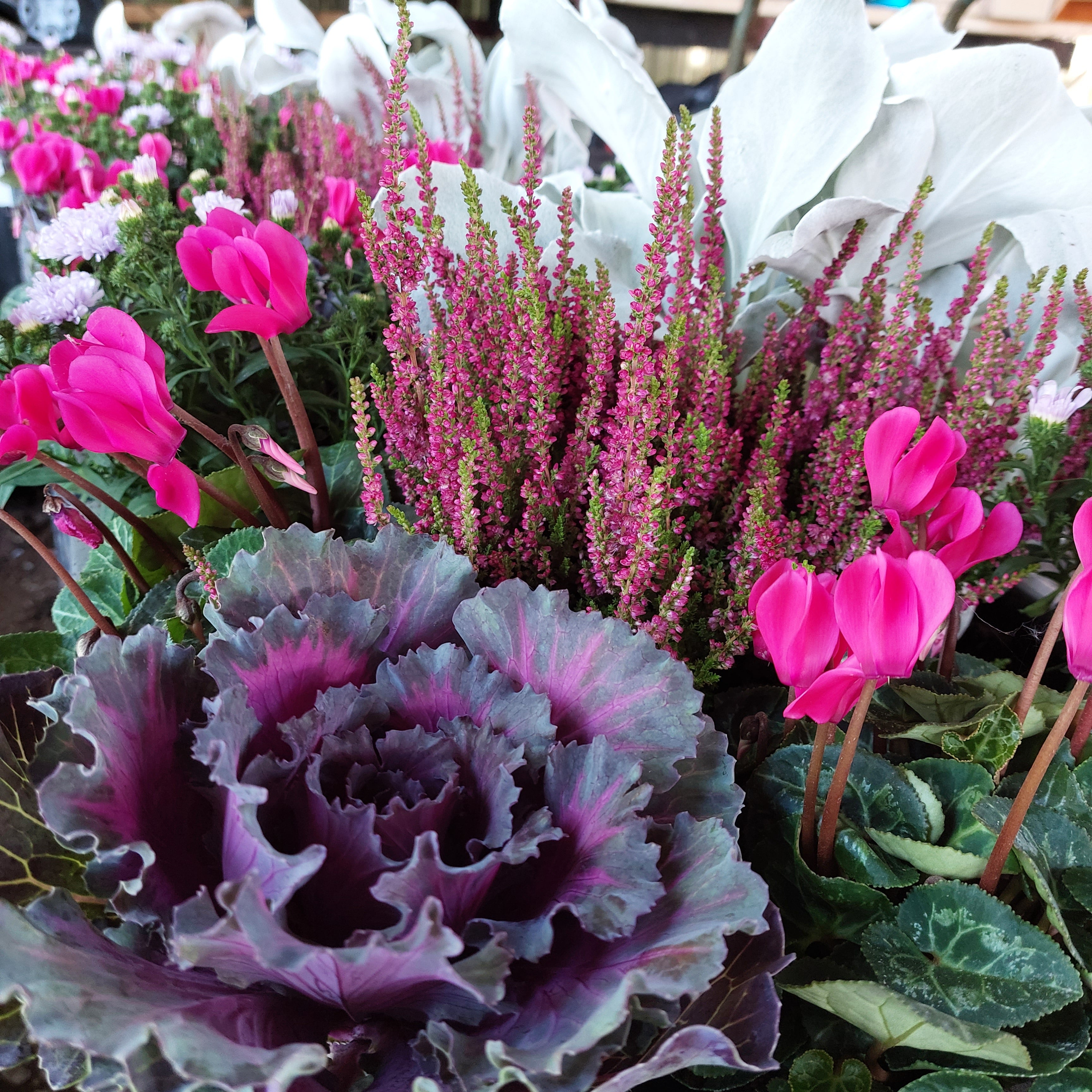 Colourful Autumn Bedding Plants for your Garden
Autumn Bedding Selection - great for beds and containers
If you're looking to plant up some containers or do up some colourful beds there's a great selection of long lasting plants at this time of year that last well into the winter that are really colourful and somewhat quirky. Amongst the most popular are Cyclamen, these are a hardy plant and are great in pots, containers, hanging baskets and in beds. They come in a range of colours - red, pink, burgundy, maroon and white being the shades most often seen and each plant produces a good amount of flowers over a long period and are a real welcome burst of colour and fragrance in Autumn & Winter. They like free draining conditions so if you are planting them in pots use a good quality compost and mix through some perlite to improve drainage and add in some slow release fertilizer to keep them fed through the Autumn and Winter. As the flowers fade, deadhead them right down to the base of the plant to avoid any rot or fungus and make sure they don't get over watered. They can come back next year but I find it best to replace them with new plants.
Another popular and fun plant to use are ornamental brassica or ornamental cabbages - these are related to the edible cabbages but have more colourful foliage and are ideal for both containers and beds. Mostly coming in white and purple they are grown for their large rosettes of colorful leaves and are tolerant of our cold winters with the colours becoming stronger in cooler temperatures. They can be planted en masse, at the front of a border or to fill a bed or part of a mixed planted container - perhaps mixed with cyclamen, trailing ivy and violas. They tend to be pest and trouble free with little or no maintenance required and will last well into winter. They are edible but bitter compared to the more commonly grown eating varieties - edible but not eatable!
Another somewhat edible plant that are used in autumn and winter planting are ornamental chillies or capsicums. These are excellent for a strong pop of colour in a container arrangement. There are a good few different types and colours of red, yellow, green and purple. They're very easy to grow and will last till late Autumn or early Winter - up until a hard frost and look particularly well mixed with some Garden Girl Heathers, trailing ivy and pansies or violas - that same mix can look great in a hanging basket for an Autumn arrangement or you can use them by themselves to fill a pot for a bold blast of colour that will definitely be eye catching and a talking point .
Other staples of autumn bedding are Violas and Pansies which are easy to grow, last for ages and give a great show of colour. Plant them with some good compost and give them a liquid feed and with some regular deadheading they'll last for months. Garden Mums or Chrysanthemums are another popular autumn plant for long lasting colour with a huge range of colours and are another plant that benefits from some deadheading to prolong the flowering and encourage more flowers. So there's lots of strong, long lasting colour that's easy to grow and will look well all autumn and into winter - whether you are doing up containers or hanging baskets or doing up beds or refreshing the front of borders - lots of different combinations to choose from and with a good weather forecast plenty of opportunity to get out to your garden and enjoy some planting and therapeutic gardening activity
For any help or advice, pop into Keanes Garden Centre and we'll look after you.
All the best,
Tom Stewart