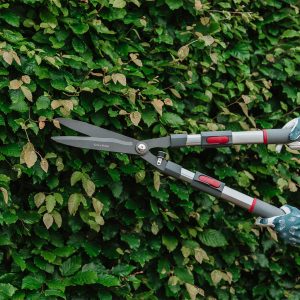 Planting a hedge in coastal areas
Planting a hedge in coastal areas - A selection of tried and tested plants to suit windy and coastal sites
Living by the coast can mean enjoying beautiful sea views, lovely landscapes and beautiful sunsets but can offer some quite challenging gardening conditions - strong salt laden winds and not much in the way of shelter can mean it's important to carefully select plants that are suited to your area. Depending on your location - be it right on the seafront, a few miles inland, coastal sheltered or coastal exposed, choosing the plants that do best for your conditions is important. Seaside locations can have the advantage of not suffering hard frost and can have a longer growing season and plenty of good light to encourage the right plants to grow.
When planning gardens and hedges in coastal areas there is a need to strike a balance between providing shelter and some windbreak and at the same time not blocking the panoramic sea views. Using windbreak netting can be of great benefit to help your hedging plants establish, giving them a helping hand for the first season or two and once they've established the netting can be taken away. Looking around the area to see what is growing well can offer a great guide of what to grow, avoiding expensive mistakes. The list of plants I've selected are tried and tested varieties and will do well in coastal areas.
An excellent, evergreen flowering hedge to consider is Berberis Darwinii or the Evergreen Bayberry. It has beautiful bright orange, scented flowers in Spring and dark purple berries in Autumn. It grows well in partial shade, suits most soils except very wet and is ideal for coastal areas. It's also quite prickly and dense, so acts as a great deterrent to keep intruders at bay, it's unlikely that someone will try to take a short cut through this hedge. Hedges are usually kept around 6 or 7 feet tall and planted around 2 foot apart. Give them a trim after flowering in early Summer or in Winter after they've produced berries.
Fuchsia Riccartonii or the hardy fuchsia make a beautiful flowering hedge for coastal locations and look great at this time of year. Easy to grow, deciduous hedge that can be cut back hard if needed and is great for bees with the well recognised flowers, pinky red and purple in colour hang from the branches. It's happy enough in sun or partial shade - usually kept to around 6 feet as a hedge and can take salty winds from the coast.
Griselinia is another excellent coastal hedge that's evergreen and will tolerate partial shade and damp conditions. Griselinia grows reasonably  fast and is a reliable hedge that takes clipping extremely well and can be kept very neat if required. It has a nice apple green or soft lime green colour and is hardy to around -8 or -9 so no concern in coastal areas but could suffer in very inland areas with a very hard, prolonged cold spell - somewhat unlikely but has happened before, but certainly one of the nicest evergreen coastal hedges.
For a lovely bright hedge, Golden Privet is a great choice, it's considered semi - evergreen - maybe using its leaves in a very hard winter, but usually holds its leaves all year round. Privet will grow in lots of conditions including poor soils and partial shade, it grows fairly fast, it's fully hardy and will tolerate coastal conditions. The bright yellow golden colour is best in sunny locations. Usually kept around 6 or 7 feet but can go to 8ft and fills out to a nice hedge. You can get golden or green privet - both growing well in the same conditions - happy in a windy seaside location and a very easy hedge to grow.
For a low growing seaside hedge Euonymus Microphyllus is a super choice, sometimes known as Box-leaf Spindle as it's similar to Box or Buxus hedging and is becoming a popular substitute to box hedging due to the problem of box blight. It's very versatile, growing in shade, partial shade or full sun and is tolerant of salt winds. Usually grown as a low hedge as it's slow growing but can grow to 5 or 6 feet, it responds well to cutting and can be kept neat. It has bright new growth when clipped and is evergreen - so year round colour.
Other popular plants to consider are Elaeagnus with a nice silver back to the leaf, Cotoneaster franchetii great for berries, Olearia traversii with silver grey foliage, Ilex aquifolium or Holly is an great tough hedge, Quercus ilex - Holm Oak or evergreen oak is very salt tolerant and can be grown as a tree or a hedge and Hawthorn is another great hedge really tough and great for winter berries.
So great choices if you need a hedge or some plants for coastal areas that are not only tough but look great at the same time 
A few jobs for the week ahead:
Cover ponds with some netting before the Autumn leaves start to fall

Divide established herbaceous perennials to maintain healthy vigorous plants - Agapanthus, Hardy Geraniums, Delphiniums, Crocosmia are all good to be divided up 

Set your lawn up for the winter with some autumn lawn feed and consider scarifying and aerating the lawn 

Give evergreen hedges a trim before Winter - cut them so they're slightly narrower at the top to prevent shading at the base 

Plant up your spring flowering bulbs - snowdrops, daffs, tulips, bluebells, alliums a lots more varieties - great for pots and beds

Keep Camellias and Rhododendrons well watered at this time of year to ensure that next year's buds develop well.

Clean any bird feeders that haven't been cleaned in a while and top up with some feed - peanuts, fat balls, nyjer seed & mealworms will be much appreciated by you garden birds.
For any help or advice, pop into Keanes Garden Centre and we'll look after you.
All the best,
Tom Stewart